Unknown to a lot of people, freedom of expression includes the right to express your thoughts and to
offend people. There is no such thing as a right not to be offended. What is offensive to one group of people might not be offensive to other groups.
But if there's one particular group that claims the right not to be offended, it's the religious camp. Advocates of political correctness would like to protect minority groups and  politically, socially or economically disadvantaged groups against hate speech, discrimination and offense.
There's absolutely nothing wrong with trying to protect the weak and the defenseless. But people need to understand that offensive is very subjective. Feeling good enough should not come at the expense of other people's rights!
For instance, some religious extremists or hardliners find infidels or unbelievers very offensive. In fact in some theocratic countries people have been killed because of their atheism, religion, or sexual orientation. Yet secular people find these barbaric, uncivilized acts by religious conservatives and fundamentalists not merely offensive, but fundamentally immoral as well.
There are some religious conservatives or simply bigots who find LGBT (lesbian, gay, bisexual, transgender,) very offensive because of their sexual preferences and lifestyle. But for secular, rational people like me, I also find their bigotry and intolerance utterly offensive.
Political correctness is the idea that you cannot offend minority groups and socially, politically, economically disadvantaged social clusters using discriminatory, offensive words, languages, images, or depiction. It is this idea that justifies the passage of anti-hate speech laws and policies.
I am not merely against political correctness, which I find very offensive; I am also against those who advocate anti-hate speech laws. Ironically, those who have been pushing anti-hate speech legislation are intolerant to other people's beliefs, political inclination, and sexual orientation. For example, the strongest and most passionate advocates of hate speech laws in the Western World are liberals or progressives who are averse to or contemptuous of other people's political beliefs and convictions.
The liberals and progressives use political correctness to advance their political agenda, to display a veneer of tolerance, to destroy their political enemies, and to support statism.
Hate speech laws and legislation are anti-free speech. They do not empower or protect minority groups or socially disadvantaged groups; they only empower the state to limit freedom and free speech. To protect people, the government and its agents only need to implement existing laws. We already have long established laws against crimes against persons and property. Implement those laws!
Now only a few days after ABS-CBN comedian Vice Ganda apologized to GMA7 news anchor Jessica Soho over his 'gang rape' joke, Apolonio "Pol" Medina Jr, Inquirer's top cartoonist, was suspended over an 'offensive' comic strip criticizing the supposed hypocrisy of Christians on the issue of homosexuality.
But since most self-esteemed artists have pride, Medina perhaps found his suspension offensive to his rights as an artist so he chose to resign as contributor to the daily broadsheet. Medina's resignation ended Pugad Baboy's 25 years of bringing comic relief.
His minimalist resignation letter to Inquirer's editor-in-chief Letty Jimenez-Magsanoc read: "Sorry I dishonored you. I resign."
Medina said his resignation merely expresses regret and his sincere apology. But I actually find it a bit sarcastic. They say there's humor in everything– perhaps that includes Pol Medina's goodbye letter.
"'Yung pag-resign nga ang ultimate expression nga ng regret eh, na may ginawa ka…Ito pa nga makakapagsabi na mas sincere ang pag-sorry mo," Medina told ABS-CBN News.
The cartoonist's controversial comic strip offended a Catholic school, St Scholastica's College, that it sent a letter to the Inquirer on the day the strip was published to protest "in the strongest possible terms the way the school was singled out" and how their Sister-administrators were "accused of allowing homosexual relationships between its female students."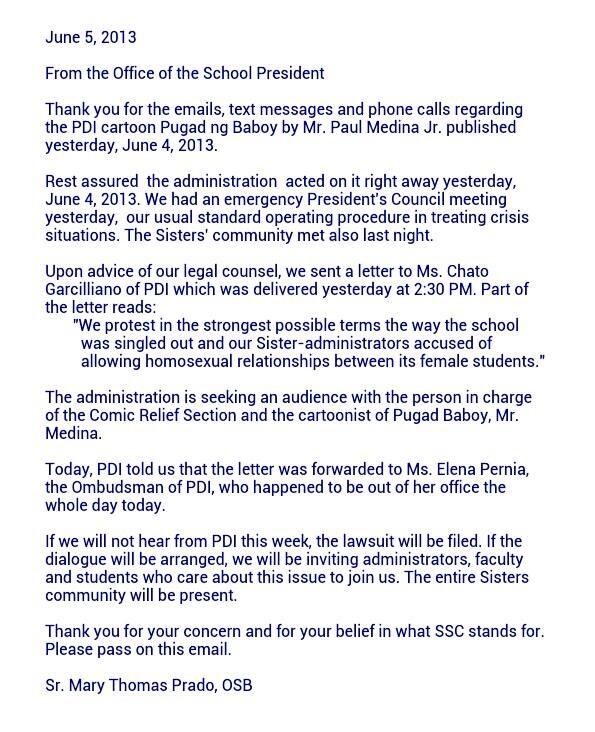 The comic strip in question pictured two characters talking about how hypocritical it is for Christians to castigate homosexuality when gays and lesbians are allowed in Catholic schools. Medina's strip went on to mention a particular college, drawing public outrage. It read:
"O' nga no? Sa St Scho e wala kang makikitang magandang kulasa na walang girlfriend." (That's right, eh? In St Scho, you won't find a pretty St Scholastican without a girlfriend.)

"Di kaya tongril din yung mga madre?" (Maybe the nuns are also lesbians?)
Medina posted the following on Facebook:
Thursday: "if you zoom in on that particular strip that got me fired, you'll see that the strip first appeared in MARCH. no reaction then. it was reissued after i made a series of anti-marcos strips, then BOOM! nag-trending sa twitter. interesting. i smell a consPIGracy…."

 Thursday: "what? wait… hindi pa pala ako fired. suspended lang hanggang magkaroon ng consensus na sipain ako. pero… doon di siguro ang punta no'n. sigh. 'yung strip na lumabas ngayon tungkol sa voltes v–'yon ang dapat na lumabas noong june 4. akala ko na -reject dahil bumunot sila sa archives ng ipapalit na strip at 'yon pang st. scho na strip na lumabas noon pang march and ipinalit."

Thursday: "holy pwet! just got an email from PDI–they're still deliberating!! (readers advocate) mali 'yung post ko na fired na ako. nakukuryente rin pala ako sa pagbabalita. let's wait for the official word. salamat sa suporta."

Thursday: "since indefinite pa 'yung suspension ko e dito ko muna ilalabas 'yung strip na dapat lumabas ngayon. grabe, kaya ko nang magbabad sa Facebook. ganito pala ka-unproductive ang walang deadline."
 He also posted this comic strip on his Facebook page:
Medina's Facebook status last Friday: "strip for today."
 Inquirer, being a private organization, has all the right to suspend or fire its employees for justifiable reasons. But what I find very much alarming and offensive is that this incident could be used by politically clueless advocates of political correctness to pass and support laws and policies that abridge free speech. With political correctness, telling the truth can be considered hate speech. 
As for me, I found St Scholastica's intolerance utterly offensive.
Twitter React!
https://twitter.com/classroomgod/status/342790788960374784
https://twitter.com/ooh_aud/status/342790968816332800
https://twitter.com/classroomgod/status/342791962237214722
https://twitter.com/iamdrose1/status/342644140732981248